WELCOME TO MOUNT MAYHEM HAUNT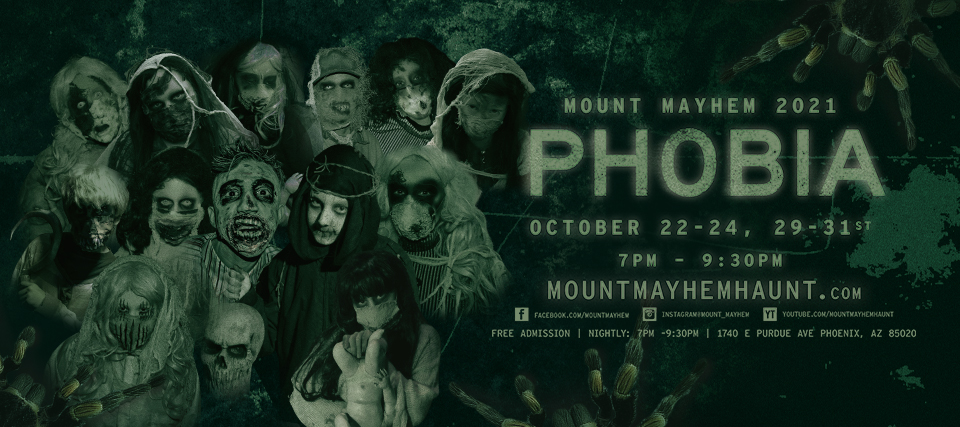 Mortem may have highlighted our fears of death but surviving 2020 meant a whole new concept of anxiety was born. The Mount Mayhem scare-actors are prepared to show you your innermost fears and phobias, whether you are aware of them of not. You thought a virus could freak you out? Wait until you see what the Mount Mayhem monsters have in store for you! We will mine your worst fears and stress your nerves. Prepare for the onslaught of... PHOBIAS!
2021 SAFETY MEASURES: RESPONSIBLE HAUNTING
Face masks are optional but will be made available.
Hand sanitizing will be available before entering/exiting.
Normal scaring will return. All of our members are vaccinated.
Reservations & walk ups will be allowed this year.
No groups larger than 5 people at a time. Bigger groups will be split. NO EXCEPTIONS!
We reserve the right to refuse entry to anyone!
KEY POINTS
This Halloween display is at a private residence and put together by the kids and family.
This Halloween display is in our backyard and small groups (up to 5) can go through at a time.
Please read the rules on the side bar and please wear covered shoes. NO heels or flip flops.
There are live actors as well as moving and non-moving props.
We do this because we love Halloween and creativity for our neighborhood.
The haunt is complimentary but donations are accepted.
No actors will touch you.
We spend over 150 hours yearly building all our props and we change themes yearly.
So with that being said please feel free to bring your kids as this is a family friendly yard haunt.
Enter at your own risk.
GALLERY
2021 PHOBIA PREVIEW
CONTACT US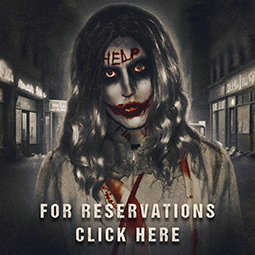 info@mountmayhemhaunt.com
602-507-7160
LIKE ON FACEBOOK
LOCATION
1740 E. Purdue Ave.
Phoenix, AZ 85020
IMPORTANT INFO
Dates: October 22, 23, 24, 29, 30, 31
Times: 7:00pm - 9:30pm
All minors must be accompanied by an adult. This is a home haunt for the love of Halloween.
This is a family run haunt so everything you will enjoy at this haunt has been made and put together with the family and volunteers so please respect the haunt.
Most of all have fun!
DO AND DON'T
DO - wear your face masks
DO - social distancing
DO - bring your whole family
DO - stay with the group you go in with
DO - watch your step while going through the haunt
DO - respect the actors space
DON'T - hit the actors
DON'T - run
DON'T - wear high heels, wedges, or flip flops
LINKS